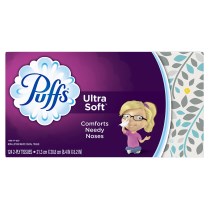 Puffs® Ultra and Plus
Keep Puffs® Ultra Soft & Strong on hand to offer your guests and employees Puffs' best strength tissue. You can trust Puffs facial tissues to be gentle on delicate skin because they're the only national facial tissues that are Dermatologist Tested. And, they're Air-Fluffed soft, perfect for a range of uses, from illnesses to makeup touch-ups to face blotting. All with more cushiony thickness*. So face every day with Puffs softness, thanks to our best non-lotion facial tissue: Puffs Ultra Soft & Strong.
The only national brand that's Dermatologist Tested gentle on skin
Help maintain a healthy work environment by keeping tissues handy
The only tissue with Air-Fluffed pillows
More cushiony thickness*
Our best non-lotion tissue
Help prevent the spread of infection to others by using tissues.
Puffs Ultra Soft & Strong Family 24/124 ct

Case

10037000356698

Package

037000356691

Weight

15.443

Units

24

Puffs Ultra Soft & Strong Family 4/6-124 ct

Case

10037000355547

Package

037000355540

Weight

16

Units

4

Puffs Plus Family 8/3-116 ct

Case

10037000820861

Package

037000820864

Weight

16.4

Units

8

Puffs Plus Family 24/124 ct

Case

10037000393464

Package

037000393467

Weight

16.756

Units

24

Puffs Plus Family 4/6-124 ct

Case

10037000393839

Package

037000393832

Weight

16.844

Units

4

Puffs Plus To Go 24/40 ct

Case

10037000871269

Package

037000871262

Weight

4.7

Units

24

Puffs Plus To Go 48/2-10 ct

Case

10037000871252

Package

037000871255

Weight

4.7

Units

48

Puffs Ultra Soft Cube 24 1X48 ct

Case

10037000772511

Package

037000772514

Weight

7.6

Units

24

Puffs Ultra Soft & Strong Cube 24/56 ct

Case

10037000350382

Package

037000350385

Weight

8.4

Units

24

Puffs Ultra Soft & Strong Cube LCP KDF 6 4X56 ct

Case

10037000352959

Package

037000352952

Weight

8.5

Units

6

Puffs Plus Cube 24/56 ct

Case

10037000348648

Package

037000348641

Weight

8.9

Units

24

Puffs Plus Cube 6/224 ct

Case

10037000348990

Package

037000348993

Weight

9.165

Units

6