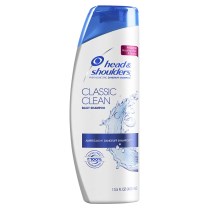 Head & Shoulders® Shampoo
Help say goodbye to flakes and hello to great hair with Head & Shoulders® Shampoo. Formulated with HydraZinc for soft, manageable, 100% flake-free* hair. Also available as a 2N1 Shampoo Conditioner, Dry Scalp Care, and Smooth & Silky.
7 Benefits: Fights dry scalp, calms itchy scalp**, relieves irritation**, reduces redness**, great scent, controls flaky scalp** and leaves hair looking great.
Dandruff shampoo that provides soft, manageable, great-looking hair that's 100% flake free*. Fights flakes 24/7***.
Gentle and pH balanced for everyday use, even on color or chemically treated hair.
Formulated with a fresh, clean scent.
Head & Shoulders 2N1 Classic Clean 6/8.45 oz

Case

10037000901614

Package

037000901617

Weight

4.115

Units

6

Head & Shoulders Shampoo Classic Clean 36/1.7 oz

Case

10037000446498

Package

037000446491

Weight

5.35

Units

36

Head & Shoulders Conditioner Classic Clean 6/13.5 oz

Case

00037000251712

Package

037000143079

Weight

5.856

Units

6

Head & Shoulders 2N1 Refresh Men 6 13.5 oz

Case

00037000913948

Package

037000062103

Weight

6.04

Units

6

Head & Shoulders 2N1 w/Old Spice 6/13.5 oz

Case

00037000913986

Package

037000571780

Weight

6.04

Units

6

Head & Shoulders Shampoo Old Spice 6/13.5 oz

Case

00037000913979

Package

037000855378

Weight

6.04

Units

6

Head & Shoulders Shampoo Refresh Men 6/13.5 oz

Case

00037000913931

Package

037000061984

Weight

6.04

Units

6

Head & Shoulders Shampoo Classic Clean 6/13.5 oz

Case

00037000913559

Package

037000061946

Weight

6.066

Units

6

Head & Shoulders Shampoo Clinical Strength 6/13.5 oz

Case

00037000913573

Package

037000274018

Weight

6.114

Units

6

Head & Shoulders Shampoo Itchy Scalp Care 6/13.5 oz

Case

00037000913870

Package

037000473657

Weight

6.114

Units

6

Head & Shoulders Shampoo Classic Clean 24/3 oz

Case

10037000962820

Package

037000962823

Weight

6.117

Units

24

Head & Shoulders 2N1 Classic Clean 6/13.5 oz

Case

00037000913566

Package

037000062035

Weight

6.372

Units

6

Head & Shoulders 2N1 Dry Scalp Care 6/13.5 oz

Case

00037000913610

Package

037000062059

Weight

6.372

Units

6

Head & Shoulders 2N1 Green Apple 6/13.5 oz

Case

00037000913863

Package

037000520252

Weight

6.372

Units

6

Head & Shoulders 2N1 Ocean Lift 6/13.5 oz

Case

00037000913962

Package

037000062097

Weight

6.372

Units

6

Head & Shoulders Shampoo Dry Scalp Care 6/13.5 oz

Case

00037000913603

Package

037000061991

Weight

6.372

Units

6

Head & Shoulders Shampoo Green Apple 6/13.5 oz

Case

00037000913856

Package

037000520221

Weight

6.39

Units

6

Head & Shoulders 2N1 Classic Clean 4/23.7 oz

Case

00037000895275

Package

037000011989

Weight

7.3

Units

4

Head & Shoulders 2N1 Ocean Lift 4/23.7 oz

Case

00037000895299

Package

037000071334

Weight

7.3

Units

4

Head & Shoulders Dry Scalp Care 4/23.7 oz

Case

00037000895220

Package

037000012146

Weight

7.3

Units

4

Head & Shoulders Shampoo Classic Clean 4/23.7 oz

Case

00037000895268

Package

037000011965

Weight

7.41

Units

4